Why You Should Visit a Long Island Gunsmith
Though there are plenty of Long Island gun shops, they aren't all created equal. Unfortunately, many of them aren't well-equipped; their inventory is minimal and they're staff just doesn't seem to have the answers to your questions. If you really want to have all of your Long Island firearms needs met, then you need to head to Dark Storm Industries. Offering a huge supply of firearms, accessories, and Long Island ammo, you'll find everything you need at this leading Long Island gun store. They're even a shooting range Long Island and their gunsmiths can masterfully craft any firearm you can dream of! With so much to offer, it's no wonder why the gun owners of Nassau and Suffolk Counties rely on Dark Storm Industries for all of their firearm needs.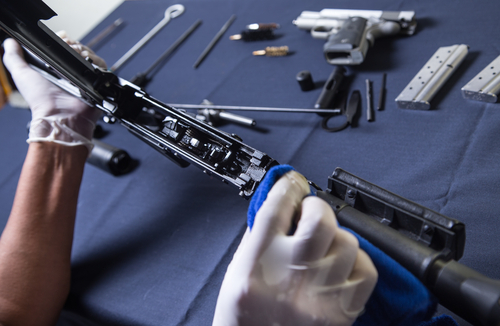 If you're a firearm owner, you know that there's absolutely nothing worse than pulling out your prized possession, pulling the trigger, and feeling that horrible sensation of a pin or spring popping loose. It's enough to make you fall to your knees! Unfortunately, it happens. Even the best-crafted pistols, shotguns, rifles, and DSIs can fail because after all, they are mechanical devices.
When you discover your gun has failed, you could try to correct the problem yourself. However, unless you've got extensive experience, it's probably a better idea to take it to see a Long Island gunsmith. Here's a look at some very good reasons why you should develop a relationship with a reputable gunsmith.
Expert Repairs
Professional gunsmiths undergo intensive training. As such, they know everything there is to know about repairing a damaged gun. They can pinpoint the problem and determine exactly what needs to be done in order to fix it. They'll use the most advanced and proven techniques, the highest quality materials, and use extreme precision in order to ensure that your firearm is properly repaired. When it comes to gun repairs, the last thing you want is a so-so job. That's why you should always head to a reputable gunsmith whenever you spot signs of trouble.
Fast Results
In addition to providing expert repairs, a gunsmith will also be able to get the job done quickly; probably a lot faster than you would be able to if you tried to fix your firearm on your own. There's nothing worse than being left unarmed; when your gun needs to be repaired, take it to a gunsmith and you'll be able to enjoy the comfort and security of your weapon as quickly as possible.
Complete Inspections
Even if your firearm isn't showing any signs of trouble, it's a good idea to have it inspected. Just like any other mechanical device, a gun needs to be assessed on a regular basis to ensure that everything is functioning properly. A gunsmith will fully inspect your gun, checking for signs of wear and tear that could potentially lead to failure. If anything seems awry, a professional will correct the issue so you don't have to deal with a serious problem. When it comes to operating a gun, safety is paramount, and having regular inspections by a professional gunsmith will ensure that your firearm is running smoothly and safely.
Upgrades, Too
There are so many accessories that you can add to a firearm to make it a one-of-a-kind weapon that's completely customized to your needs. A gunsmith will be able to add those upgrades and ensure that they are installed properly so that your gun is in proper and safe working order.
Every Firearm Owner Should Befriend a Professional Gunsmith!
If you own a firearm – whether it's a pistol, an AK rifle, a Smith & Wesson pistol, a Remington shotgun, a DS – 15 Hailstorm, or any other type of gun – you need to become friendly with a gunsmith. A professional gunsmith is to your firearm what a mechanic is to your car – and just as important. To keep your weapon in top-notch condition, befriending a gunsmith is an absolute must!
If you're searching for a Long Island gunsmith, look no further than Dark Storm Industries. Their professional craftsmen are truly experts at their trade and will ensure that your firearms are functioning beautifully. To learn more about Dark Storm Industries, visit them on the web at Dark-Storm.com, or call 800.963.7700 to speak to a friendly and knowledgeable associate.